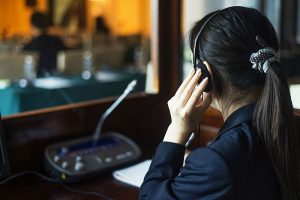 The versatility of our interpreting service has been enhanced by 15 years of involvement in various special events and solutions. Clients can rely on our experience and flexibility.
Néhány "LEG", amelyre büszkék vagyunk: 
The largest audience reached by Educomm Translation Agency interpreters through our interpretation equipment was 750 people.
The longest interpreting event, with interpretation every day, lasted for 28 days.
The shortest assignments can last just a few minutes and are mostly performed over the telephone.
We are happy to show detailed references, on request. Here is a small selection of our favourites:
International Red Cross Committee (three-day event with EN-FR, EN-ES interpreting)
CIC International Council for Game and Wildlife Preservation (EN-FR interpreting)
British Transportation & Travel Research Ltd. (on a number of occasions with EN-DE, EN-FR and EN-HU interpreting)
Zepter International Kft. (HU-RO and HU-SR interpreting).
We are the most proud of our service for the Budapest Museum of Fine Arts
We often interpret at the opening of the exhibitions of the museum, where prominent Hungarian and international public dignitaries listen to our interpreters through the headphones of our equipment and occasionally we are also asked to translate the texts of publications dedicated to the work and exhibitions of the museum.
Unless otherwise specifically required by our client, we provide qualified interpreters with native-speaker language skills and many years of experience.
Tolmácsolási típusokról itt olvashat »